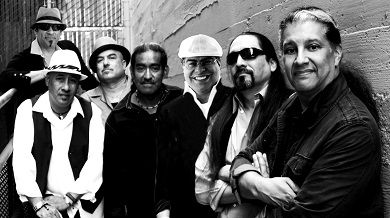 Summer Concert Series Featuring Caravanserai
August 23, 2018 6:30 PM - 8:28 PM
Summer tunes are taking over Broadway Plaza and our second concert features Caravanserai - The Santana Tribute!
About the Band:
Conceived as a fantasy band by lead guitarist Leo Herrera and fueled into reality by the enthusiasm of friends and family members, Caravanserai is a project of love and devotion. Originally a replication of, Rock and Roll Hall of Fame band, Santana's legendary early days, Caravanserai has grown to include material from all eras of Santana's 30+ year history. From the 1969 hit Evil Ways to monster hit Smooth which is on the world renowned and 9 time Grammy winning CD Supernatural, as well as hits from Santana's most recent CD release All That I Am. Caravanserai performs music to satisfy Santana fans young and old.

Painstaking care has been taken in the recreation of early and new music performed by this band of journeymen from the San Francisco Bay Area. All the instrumentation used by Santana over the years is there: guitar, keyboards, bass, drums, timbales, and congas. In some cases the exact kind of instruments are used, right down to the Paul Reed Smith guitars used by band leader Leo Herrera.

Caravanserai has also recently augmented their sound with the addition of a horn section --the Bay Area's Cali Horns. They can be seen at select performances throughout the year. Over the past years the Caravanserai experience has grown throughout the west
coast, we have had the privilege of performing at many wonderful venues.

About the Event:
All shows will be held in the Broadway Plaza Event Plaza, with pre-show entertainment starting at 6:30pm and music starting at 7pm.

Feel free to bring your own blankets and chairs, as the Plaza will not be providing. Beverages will be for sale at the event site, plus there are many other food options available at Broadway Plaza very close to the venue.

Sponsored by Capital One Café, Renaissance Club Sport Walnut Creek and the Walnut Creek Downtown.