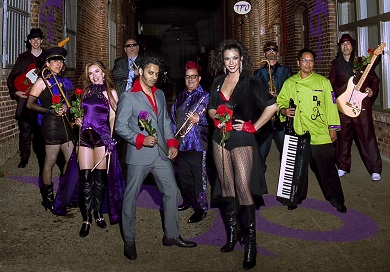 Summer Concert Series Featuring The Purple Ones
August 10, 2017 6:30 PM - 8:30 PM
Broadway Plaza Summer Concert Series Featuring The Purple Ones!
Thursday, August 10, 2017
With 25 studio albums, over 100 million albums sold worldwide and endless awards won including most recently the 2013 Billboard Icon Award, The Purple Ones was formed in April 2012 to pay homage to one of the most well known musicians spanning over multiple decades, the incredible songwriting, musicianship and over the top legendary performances of The Purple One himself…PRINCE!
From Oakland CA, TPO is the brainchild of Morty Okin (former co-founder/manager/trumpet of MJ tribute Foreverland, former co-founder of Neil Diamond tribute Superdiamond), and Roger Rocha (Lead guitar of 4 Non Blondes, The Goldenhearts).
This all star Bay Area band features current and former members of staple bands such as The New Morty Show, 4 Non Blondes, 2014 Grammy-winning Pacific Mambo Orchestra, Foreverland, Superdiamond, Casino Royale, Joshua Cook and The Key of Now, and more.
Party like its 1999 with bandmembers as they power though hit after hit from A sides to B sides with classics such as Little Red Corvette, 1999, I Feel for You, I Would Die 4 U, Controversy, It's Gonna Be A Beautiful Night, Purple Rain, When Doves Cry, Lets Go Crazy, as well as Prince staples Darling Nikki, Computer Blue, Dirty Mind and so many more including Morris Day and The Time's The Bird and Jungle Love. Plus TPO couldn't dare forget the Prince/Sheila E hits The Glamorous Life and A Love Bizarre and Prince/Sheena Easton's U Got The Look!
All concerts will take place in the new Event Plaza near Macy's, from 6:30 - 8:30pm.